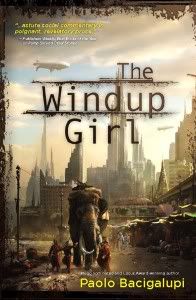 The Windup Girl
(2009)
Written by:
Paolo Bacigalupi
Genre: Science Fiction
Pages: 359 (Hardcover)
The premise
: this isn't one I can explain easily, so let's go to BN.com:
Noted short story writer Bacigalupi (Pump Six and Other Stories) proves equally adept at novel length in this grim but beautifully written tale of Bangkok struggling for survival in a post-oil era of rising sea levels and out-of-control mutation. Capt. Jaidee Rojjanasukchai of the Thai Environment Ministry fights desperately to protect his beloved nation from foreign influences. Factory manager Anderson Lake covertly searches for new and useful mutations for a hated Western agribusiness. Aging Chinese immigrant Tan Hock Seng lives by his wits while looking for one last score. Emiko, the titular despised but impossibly seductive product of Japanese genetic engineering, works in a brothel until she accidentally triggers a civil war.
I should note one thing: this book takes place in the same city as "Yellow Card Man" and features two of the same characters, though the windup girl herself was merely window dressing in the short story.
My Rating
Worth the Cash
:
The Windup Girl
is a very solid SF debut. It's not perfect, but it should come to no surprise to those familiar with his short stories that Bacigalupi has potential, and I'm looking forward to seeing what he does in future novels. Technically speaking, he's an
excellent
writer. I think his short stories tend to pack a bigger punch, but I will say
The Windup Girl
will knock you off your feet if you aren't paying attention. And you NEED to pay attention. This is no fast read. It's complex and intense and requires the reader's full attention. I can't stress enough just how rich the world-building is, and how much the characters are a part of their environment. Everything is harsh and sharp at the edges, and it's not a world you want to live in. To be honest, after reading this and the short story "Yellow Card Man" (which I'd recommend reading before the novel. You can find it in
Pump Six and Other Stories
), I don't want to return to this place. That's a compliment in its own way, but it's also telling: after this book, you feel like you've lived it, and it's such a harsh, desperate environment that you don't want to return. Hopefully, Bacigalupi's future novels will introduce us to new, yet equally harsh, worlds and give us yet more to stew over. I hear there's a YA novel on the horizon, which I ridiculously look forward to.
I would recommend to readers NOT familiar with Bacigalupi's work to start with his short stories. There's a few reasons for this: while his writing is VERY excellent and he can world-build like nobody's business, overall he's a dark and somewhat misanthropic writer. The short stories will give you a sampling of this, which will tell you whether or not you want devote the time to a novel. So start with
Pump Six and Other Stories
(which gives you "The Calorie Man" and "Yellow Card Man," both useful prerequisites for
The Windup Girl
), and if you enjoy Bacigalupi's work, then picking up the debut novel is a must.
Review style
: stream of conscious. In terms of spoilers, I'm not going to spoil the BIG parts of the story in terms of climax and ending, but there are some things I want to discuss about a certain character's journey that could be considered a spoiler by some, even though it gives nothing away about the plot itself. Clear as mud? Good.
If you're interested in the full review, simply click the link below to go to my journal. As always, comments and discussion are most welcome. :)
REVIEW: Paolo Bacigalupi's THE WINDUP GIRL
Happy Reading!
ALSO!!!
: October's Book Club selection at
calico_reaction
is Mary Shelley's
Frankenstein
. Interested in participating? Click
here
to find out how!